Located in the heart of Staten Island, the Richmond Health Network Urology Services Center provides quality care from our board-certified team who specialize in advanced treatments and procedures for adult male and female patients. When you step foot into our center, you will find a serene setting to put you at ease as well as our caring and compassionate team waiting to assist you.
From kidney stones to urologic cancers, including prostate cancer, our team of experienced specialists offers comprehensive surgical and nonsurgical care. We treat a wide range of urological conditions to help relieve symptoms, enhance comfort, and restore function.
We offer patients the highest quality surgical and nonsurgical care from an expert team. The center's urologists utilize the latest technological advances for diagnosis and treatment, including minimally invasive procedures whenever possible. Patients receive treatment in our dedicated urology suites at our office and on the main campus of Richmond University Medical Center. Patients can also take advantage of our cysto-endourology suite and shockwave lithotripsy treatment for kidney stones.
Contact Us
If you are experiencing symptoms that suggest a urologic condition, please contact the Richmond Health Network's Urology Services Center at (718) 370-1400 to schedule an appointment. Our office is located at 1200 South Ave. conveniently situated in the center of Staten Island with easy access via I-278 and NY 440 and by public transportation.
When Should I See A Urologist?
In many cases, your primary care physician will work with you to determine when you should see a urologist. However, if you notice any of the symptoms below, you should schedule a consultation to rule out serious conditions:
A frequent or urgent need to urinate
Discomfort or a burning sensation during urination
Difficulty urinating
Weak urine flow
Blood in your urine
Pain in your lower back, sides, or pelvis
Male patients should also consult with a urologist if they:
Experience prostate problems
Experience trouble getting or maintaining an erection
Have reduced sex drive
Notice a lump on their testicle
Have an abnormal PSA blood test
Our Services:
Our highly trained staff of physicians, nurses, and medical professionals addresses a wide variety of urologic concerns in adult male and female patients including:Bladder Conditions
Bladder Cancer
Kidney Stones and Kidney Stone Disease
Prostate Cancer and Disease
Enlarged Prostate
Renal or Kidney Cancer
Urological cancer l Bladder cancer l Testicular cancer
Overactive Bladder Services
Bladder Botox
Percutaneous Tibial Nerve Stimulation
Sacral Neuromodulation
Men's sexual health services include:

Vasectomies
Testosterone therapy to address diminished sex drive
Infertility
Options to resolve erectile dysfunction, including regenerative therapy and shockwave treatment

Women's health services include:
Urinary incontinence
Urethral Sling Procedure
Additional services are available to help with female urologic conditions
Cysto-Endourology Suite
This specially designed suite allows urologists to closely examine the urinary system to diagnose several conditions. Commonly used to address blood in the urine and other symptoms, a small camera is inserted into the urethra to provide a clear view of the bladder and identify any issues. This allows our team to provide a more accurate diagnosis and deliver the best treatment possible.
Shock Wave Lithotripsy for Kidney Stones
This noninvasive treatment offers an alternative to the surgical treatment of kidney stones. Shock waves, acoustic pulses generated by an energy source, break up stones found in the kidneys or urethra into smaller pieces that may pass easily in the urine. Stones are located using ultrasound or fluoroscopy technology, which allows urologists to precisely target shock waves. Your doctor will then place a water-filled cushion against your skin or direct you to rest in a water bath during the treatment process, which is performed under sedation to ensure your comfort.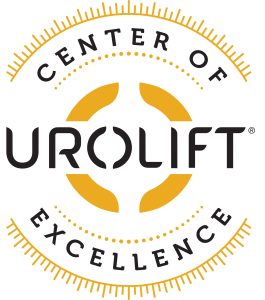 For more information, visit www.urolift.com
What is the UroLift® System?
The UroLift System is a minimally invasive procedure to treat an enlarged prostate. It is a proven option for patients looking for an alternative to medications or major surgery. it is the only leading enlarged prostate procedure that does not require heating, cutting, or destruction of prostate tissue.
Advantages of the UroLift System
Risk profile better than reported for surgical procedures such as TURP
Rapid symptom relief, better than reported for medications
Only leading Benign Prostatic Hyperplasia (BPH) procedure shown to not cause new and lasting sexual dysfunction
Additional Resources for Urolift
RUMC urologist Dr. Richard Maggio explains how a minimally invasive procedure brings relief to men with an enlarged prostate – Click here to read
Urolift Center of Excellence
Dr. Maggio has earned the prestigious Urolift Center of Excellence which is a designation that is provided to physicians who have achieved a higher level of training and experience with the UroLift® System.
What is the UroLift® System?
The UroLift System is a minimally invasive procedure to treat an enlarged prostate. It is a proven option for patients looking for an alternative to medications or major surgery. it is the only leading enlarged prostate procedure that does not require heating, cutting, or destruction of prostate tissue.
Advantages of the UroLift System
Safe and effective
Risk profile better than reported for surgical procedures such as TURP
Rapid symptom relief, better than reported for medications
Only leading BPH procedure shown to not cause new and lasting sexual dysfunction
Additional Cosmetic Services
Penile Shockwave Treatment for Erectile Dysfunction *not covered by insurance
Erectile Dysfunction Therapy Treatment
Botox for erectile dysfunction.
Prostate Cancer Services
Prostate Cancer
Because it is one of the most common forms of cancer among men, knowing the symptoms and where to receive management for prostate cancer is extremely important. From providing a diagnosis to treating the condition, and your forever follow-up, Dr. Maggio and his team will be with you through every step of the process. Our compassionate and knowledgeable staff is equipped with extensive experience, the latest technologies, trusted treatments, and the resources to deliver the care you deserve.
Know the Symptoms and Risk Factors
Many patients have no symptoms of Prostate Cancer. However, family history of Prostate Cancer is a risk factor not to be ignored.
Diagnostic Tests
If your primary care physician identifies signs of prostate cancer, he or she will refer you to our urology service center for diagnosis, as well as our oncology services for management. A variety of tests will help determine the severity of the condition and which treatments are most appropriate.
Some of the diagnostic methods used include:
Laboratory services: Blood and tissue samples are collected and analyzed to identify unusual results that signal the presence of cancer.
MRI: An MRI uses magnetic fields to give a view of the patient's body and help doctor's locate and assess the size of a tumor.
CT scan: A CT scan creates a three-dimensional view of the body so doctors can examine a tumor from different perspectives.
Nuclear Medicine: Bone scan and PET scan are included under nuclear medicine tests, a substance will be injected that is absorbed to reveal where cancer is and how much is present.
Prostate Cancer Treatment
Radiation therapy is one of the methods our oncologists use to treat prostate cancer. A highly effective way to destroy cancer cells, radiation therapy uses high-energy radiation channeled through a linear accelerator to target tumor DNA. The treatment plan is customized to treat the cancer while sparing normal surrounding tissues.
Brachytherapy is another form of therapy that delivers internal radiation to eradicate cancer cells. This method can be used on a tumor inside the body to eradicate the cancer from inside out.
Other treatment methods, such as chemotherapy, hormonal therapy, and surgery, may also be utilized. The oncology team will work with you to create a plan that takes into consideration your specific diagnosis, overall health, and other factors to determine the most appropriate methods for treatment.
Counseling and Support
Cancer treatment affects more than your body. In fact, you may experience depression, anxiety and stress during treatment and recovery, as well as a host of emotions that can be challenging to manage. If you or a loved one would like to speak with a therapist or social worker, please request a referral to our support program. You may also contact the Family Care & Support Coordinator to schedule an appointment directly by calling (718)-818-5302. A Spanish-speaking consultant is available on request to accommodate your needs.
Find the Right Care
If you want to be screened for prostate cancer contact our urologist at (718)-370-1400 for an appointment.  If your doctor suspects you have prostate cancer, it's important to seek help right away.
To learn more about prostate cancer management, contact the Center for Cancer Care at Richmond University Medical Center today by calling (718)-818-3000. We're located at 1000 South Avenue in Staten Island to provide easy access to the latest advancements and the best in cancer care.
Meet the Team
Dr. Maggio is a board certified urologic surgeon who practices general urology and has a special interest in endo-urology and minimally invasive procedures for BPH. Previously in private practice, he recently joined the Richmond Health Network.

Dr. Maggio attended New York Medical College in Valhalla, NY. He then completed a rigorous six-year residency program at New York University Medical Center where he served as chief resident. He obtained diverse training at NYU Langone Hospital, Bellevue Hospital, Manhattan Veterans Administration Hospital, and Memorial Sloan Kettering Cancer Center.

In private practice, Dr. Maggio has participated in several clinical studies evaluating new treatments for bladder cancer, stress urinary incontinence and overactive bladder. He also offers Penile Shockwave Treatment (PSWT) for men suffering from erectile dysfunction and Votiva RF for women suffering from stress incontinence.

Dr. Shah practices female urology and pelvic reconstructive surgery and received his MD from Stony Brook School of Medicine. He completed his residency training in urology at Downstate Medical Center and completed a fellowship program in female pelvic medicine & reconstructive surgery at UCLA School of Medicine. He is board certified in urology and female pelvic medicine & reconstructive surgery.

Mariano Siragusa is a board certified nurse practitioner who is currently specializing in urology. Prior to working in urology for the Richmond Health Network, NP Siragusa was working for Optum health care where he cared for long-term care patients in multiple nursing home settings in Brooklyn. Before becoming a nurse practitioner, NP Siragusa was a registered nurse for nine years. The last five years of his nursing career were spent at the New York Presbyterian Columbia Emergency Room, where he cared for a variety of patients with many different illnesses.

NP Siragusa is a native Staten Islander. He completed both his BSN and MSN at the College of Staten Island, and graduated top of his class when he completed his MSN. While in school, his experience began in urology, where he completed hours as part of his clinical rotation. NP Siragusa is proud to serve the Staten Island community and is grateful to be a part of Richmond Health Network team.

Dr. Wilson is a board certified urological surgeon who specializes in Minimally Invasive Robotic Surgery. He graduated from St. John's University and obtained his medical degree from the University of New England College of Osteopathic Medicine. He completed his residency at Rowan University, now Jefferson Health, in New Jersey while also spending time in the Virtua, Lourdes, and Inspira Health Systems.  He completed his Robotic Fellowship at Mt. Sinai Hospital in Manhattan. Dr. Wilson specializes in a wide variety of urological procedures and conditions ranging from oncology, BPH, reconstructive, as well as general urology  and endourology procedures.  Prior to joining the Richmond Health Network he was at Garnet Urology in Orange County, New York.